Cost, convenience, quality… There are plenty advantages to buying contact lenses online. We care about bringing you the best possible vision solutions as well as looking after your eye health, which is why we like to be super clear about the process of buying your contacts online with Coastal.
To help you decide whether it's the right choice for you, we've answered some of our most frequently asked questions.
Is it safe to buy contact lenses online?
Yes, buying contact lenses online is safe – as long as you're shopping with a trusted and registered retailer. With more than 20 years of experience in the online eyewear retail space, Coastal is one of the pioneers in making contacts accessible and affordable for everyone across America.
It's also still essential to have your eyes examined regularly. Consulting your eye care doctor is key in helping you know which are the right contacts for you. Once you get your prescription, you're free to buy your contacts wherever it is most convenient.
If you take care of your contacts and know your brand, there's very little room for error when buying them online. Buying contact lenses online is not just safe, it's also pretty convenient! Not only can you purchase the most high-quality brands recommended by opticians, but they're also often cheaper compared to traditional retailers.
Can I order contacts with my glasses prescription?
No, prescriptions for glasses and contacts are different. Since glasses are placed in front of your eyes, the correction differs from contacts that are placed directly onto your eyes.
The lens power indicated for each eye (OD and OS) to correct your vision will also vary depending on the type of contacts.
Your eye care professional will need to examine you to determine which level of correction you need.
Your specific prescription will determine which contacts are suitable for you. Your eye care professional will specify particular features such as:
Base Curve (indicated as BC)
Diameter (DIA)
Lens Brand
Expiration Date
While shopping online, make sure to read your prescription carefully and indicate each of the above details, as well as the lens power for each eye.
How do I choose contact lenses?
There are many types of contact lenses. Your choice will depend on your vision requirements, according to your prescription.
Modern technology has made it safer and easier to shop for eyewear. It's about finding the contacts that fit for your eyes and your own specific needs. The best contact lenses are those that feel comfortable, offer optimal vision and fit your lifestyle!
Read about the best contact lenses brands as well as the different types of contact lenses for more advice about finding the right fit for you.
Why should I buy contact lenses online with Coastal?
Coastal is devoted to offering you the ideal combination of optimal vision and affordable prices. With a large variety of brands and a quick ordering process, we make it easy to find the perfect contacts. When you choose Coastal, you benefit from many advantages from service levels to product offerings: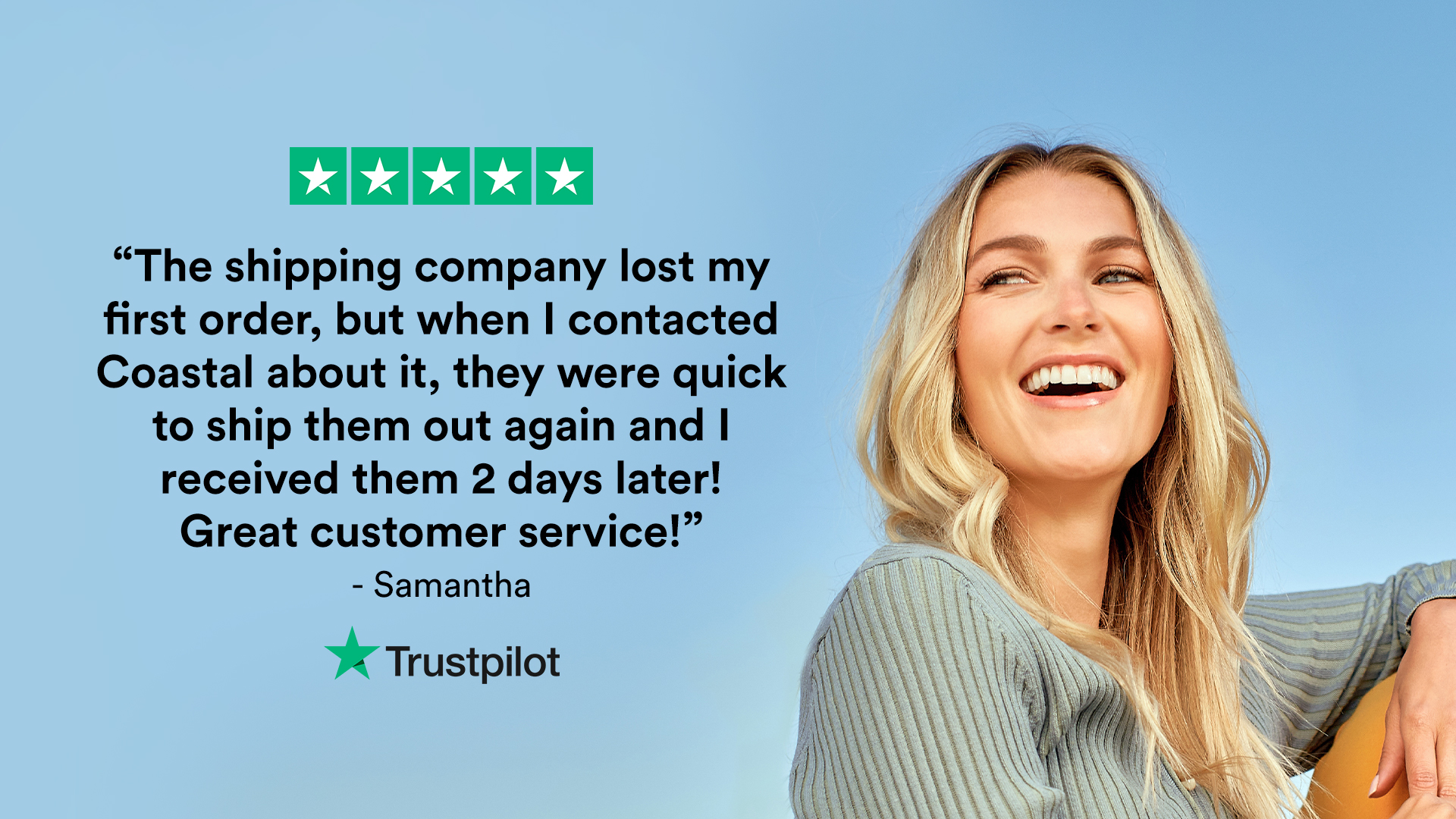 How can I order contact lenses online?
It's easy to order contact lenses online! When ordering online with Coastal, all you need to do is:
Review your contact lens prescription
Select your brand
Fill in your prescription details and choose a quantity
Place your order and check out online!
We offer the most innovative contact lens brands. Whatever your prescription requires or what your preferences are, you'll find what you need online!
Ready to try shopping for contacts online?
Enjoy the best prices and offers when you shop contact lenses online with Coastal. Shop today and enjoy a fast and easy delivery, and the best prices and quality in the market.