Not sure what your glasses measurements are or how to find them? Keep reading, you will find all the information you need! The better your frames fit, the better they flatter your face. Consider searching for your glasses as you would for a pair of shoes – first, you need to know your size.
From lens width to bridge width, each of your glass's features play an important part in determining the right frame size for you. In order to find a pair that fits perfectly, here's a guide to help you find your glasses measurement. Scroll through the different sections of this guide to find your glasses features:
Understanding glasses measurements
Frame size incorporates three key figures, all of which are measured in millimeters (mm). Usually, the frame manufacturer prints the size numbers on the inside of the glasses' temples. Sometimes they will print them on the bridge. You will find the following figures on your glasses:
Lens width: Between 31-60mm
Bridge width: Between 12-31mm
Temple (arm) length: Between 115-155mm
Most adult women would find frame arms fit between 135-140mm, whereas most adult men would find frame arms fit between 140-145mm. These figures vary depending on face shape and size.
How to measure your glasses
It is easiest to find a pair of glasses that fit you already — whether they are your current prescription pair, a set of sunglasses, or even your friend's glasses (if you do not have your own yet), and get the sizing from there. If you are not familiar with the process, here is how to measure your glasses.
Use temple (arm) measurements
Look at the inside temple of your frame and check for the numbers indicated above. You can usually find them on the left-hand side, though some may be displayed on the ear piece or the bridge of your nose.

Typically, you'll see three numbers:
1. The first 2-digit figure represents the lens width,
2. The second 2-digit figure represents the bridge width, and
3. The third 3-digit figure measures the length of your frame arms.
Use measurements from a current pair of glasses or sunglasses
If you do not see a clear series of measurements along the inside temple, you can measure your current pair by yourself.
1. Measure horizontally the inside frame width. Put the edge of your ruler over your frame and measure from the left hinge to the right hinge.

💡 Useful tips:
a) The width of your frames is like the width of your shoes—this is not a fashion choice, it's a matter of getting the correct fit. A couple of frame width fit rules to keep in mind:
b) There should be a gap between the arm of the glasses and your temple, but it should be a very small gap.
c) When you smile, the glasses should continue to rest on your nose, not get jostled by your cheeks.
2. Measure the temple length. Place your ruler at the hinge and measure straight across to the furthest end of the temple.

💡 Useful tips:
a) Frame sizes do not usually have to be exact – numbers within a few millimeters in either width or length should still fit. Spring hinges allow for increased flexibility and durability of your glasses.
b) If you are making a big change in style – for example going from a wide rectangular frame to something round, chances are the lens width in the round pair is considerably smaller than what you currently wear.
c) If you have been wearing a plastic frame without nose pads and it fit well, try to match the bridge size exactly if your new frame will be plastic as well. If you choose a metal frame, you can deviate from your current bridge size by 2-3mm and still have the adjustability of metal nose pad arms.
What is my bridge measurement?
Your glasses measurements are not complete without your bridge measurement. One of the most common issues people face when shopping for eyewear online is finding the perfect bridge fit.
A bridge that is too tight can pinch the nose and cause your frames to sit too high on your face, while a bridge that is too wide keeps sliding down your face all day (talk about annoying!). In this section, you will find answers to the most frequently asked questions about nose bridge and glasses measurements.
What is a bridge measurement?
The bridge measurement is the distance between the inside of one lens to the other — the part of the frame that sits just above (or on) your nose.
Acetate vs. metal: Which offers the simpler bridge fit?
Generally, getting the right bridge measurement is much more important when it comes to acetate frames than with metal glasses.
If you prefer metal, you've got it easy! Metal frames' bridges often come with adjustable nose pads that can be tightened or loosened to suit a variety of nose sizes. So, if your nose bridge is rather thin, metal frames with nose pads are recommended to prevent the frame from sliding.

Can I use my current pair of glasses to find my bridge measurement?
Yes! If you currently wear acetate frames, your bridge measurement should be printed right on the glasses. You can usually find this number either along the arm or the nose bridge itself.
Traditionally, the middle number corresponds to the bridge measurement and ranges between 16-21mm on most glasses. If your frames fit well, this number will work for you across the board.
Can't find your bridge measurement, or shopping for glasses for the first time?
Look in the mirror to see where your nose bridge starts and how wide or narrow your nose is. If your bridge is low (level or below your pupils), your bridge size will be a low number (between 16-18). If it is high (above your pupils) or if it is wider than average, you will need a larger bridge number (between 19-21).
Nose bridge position is just as important as size
It is also important to look at the location of the bridge on the frame. If you have a high bridge, frames with a bridge closer to the brow line are great! If you have a low bridge, frames with a curvier brow or a lower bridge would be a better choice.
How does frame thickness influence your bridge measurement?
Because the bridge measurement is measured from the inside of the frame, a thick-rimmed frame with the same bridge size as a frame with a very thin rim will not fit the same, it might be too small.
For example, if you know your bridge is 17mm and you're looking at a chunky frame with a 19mm bridge, it is very likely that it will be a suitable size for your bridge because it takes into account the extra rim.
Search glasses by size with Coastal
With our handy size filter, you can target for frames that suit your size. You can order glasses online with your own bridge measurement if you've concluded that…
Your bridge is small: look for something in the 14-16mm range.
Your bridge is medium: you'll be best suited to a bridge between 17-19mm.
Your bridge is large: your size would be 20-23mm.
Ready to find your next pair of glasses?
Now that you've learned a little more about how to measure your glasses, you have all the information needed to start ordering glasses online. Buying glasses online gives you a better range of styles and prices.
And if the glasses that you've ordered are not a perfect fit, Coastal offers free returns. If your first choice doesn't work, you can try a second (or third, or fourth…).
Shop with your glasses measurements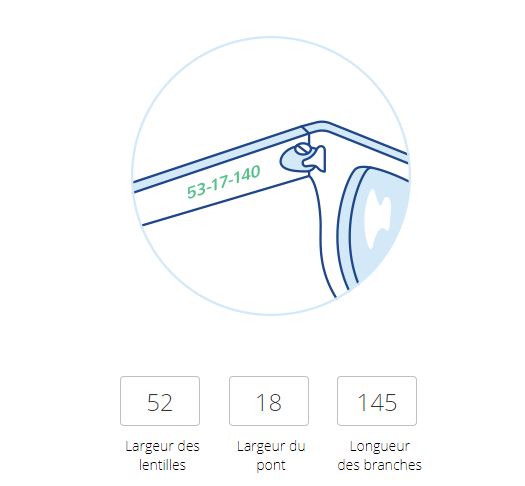 Along with having a copy of your prescription on hand, knowing the dimensions of your glasses makes it quick and easy to buy your next pair online. Once you know the measurements of your best-fitting frames, you can confidently choose a pair with a similar fit and feel.
1. Head to the MyFit tool on our website and click "Add" to input your glasses measurements.
2. Enter the figures from your current pair in the separate fields.
3. Store this measurement in your MyAccount (optional), so you can always shop with your ideal fit.
4. Browse the site and only see frames in your size, so you can focus on style.
Now that you know how to search eyeglasses frame size, you can refine your search for your glasses measurements and then continue searching for the styles, brands, shapes, and materials. And to complete your glasses measurements, you can also learn how to measure your Pupillary Distance (PD).
Click here for more info on how to buy glasses online at Coastal.
Check out the differences between a glasses and contact lens prescription.